Importance of Preventive Maintenance of Fitness Equipment
Participation in a fitness program can offer many benefits to an individual including more stamina, stronger muscles and bones, less susceptibility to depression and disease, etc. In general, it impoves one's mental and physical health.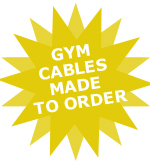 However, the owner of the fitness equipment used in such a program can contribute to opposite results if the people using the equipment are injured due to neglected equipment. Serious injuries or even death can result from poorly maintained fitness equipment. On strength equipment, cables can break or jam, welds can fail. Treadmills can suddenly speed up tossing the user backwards or suddenly stop, in effect, propelling the user forward. Dusty motor compartments can cause fires. Frayed wires can cause electrical shock, cracked covers on the equipment can cut skin, loose covers can come off exposing moving parts, seats can get wobbly and cause back problems due to misalignment of the body in order to compensate, etc.
Therefore, it is incumbent upon the party responsible for the equipment to maintain it properly. Preventive maintenance is the best way to do that by keeping the equipment functioning the way it was designed to work and by detecting and rectifying problems before they become catastrophic. Besides keeping the equipment safe, a preventive maintenance program has the added benefit of minimizing the cost of upkeep by providing the option to repair items while the issues are minor. Worn or defective parts that are not replaced in time often result in damage to adjacent parts, motors or expensive electronics.
The preventive maintenance should be scheduled, comprehensive and performed by qualified technicians who are experienced and have access to technical support.
What is Preventive Maintenance?
1. General Preventive Maintenance
Perform a safety inspection to include an observation of weldments, seat supports, chains, pulleys, cables and a check for missing or worn hardware, etc.
Upholstery items will be inspected for wear and tear, rips, cuts, and sharp edges. Mounting bolts will be checked for tightness.
2. Lubrication
Lubrication of all chains, sprockets, rollers, guide rods, seat adjustments, threaded rods, pivot points and the like where appropriate.
3. Cleaning
The Servicer will clean the inside of equipment where appropriate. e.g. The motor compartments of treadmills or any units that have optical sensors. The usual housekeeping of the exterior will be the responsibility of the owner.
Before Lubrication, the guide rods of all strength equipment will be cleaned.
4. Electrical Components and Electronics
The Servicer will inspect all line cords, power supplies, batteries and similar devices for safety and functionality.
Inspect all electrical connections and wire insulation
Test electronics and calibrate where necessary.
5. Performance Test
After the preventive maintenance has been completed to a unit, it will be tried by the Servicer to insure the overall performance and integrity of that unit.
6. Commercial Verification
Upon completion of the scheduled preventive maintenance visit, a completed checklist including a description of parts and repairs deemed appropriate by the Servicer will be given to the Owner's representative. All necessary repairs and replacement parts must be approved by the Owner or the Owner's representative.